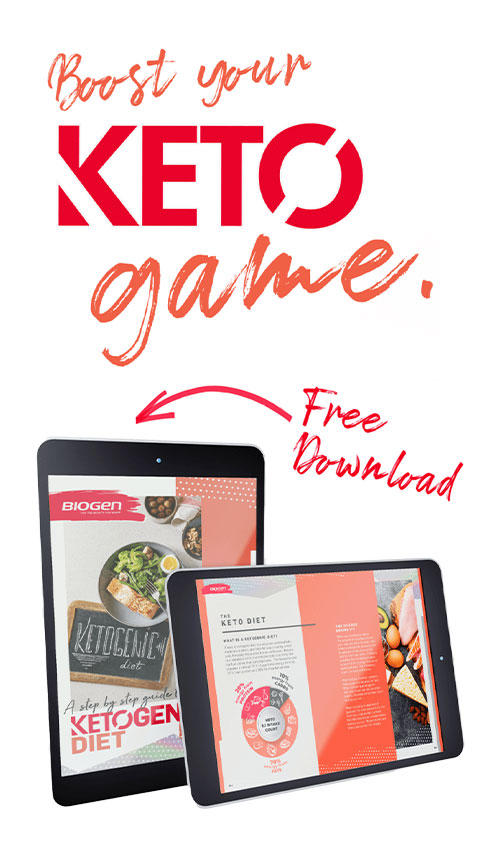 A step-by-step guide to the Keto Diet
A keto or ketogenic diet is a very low-carbohydrate, moderate-protein, and high-fat way of eating which puts the body into a state known as ketosis. Ketosis is a metabolic shift in which the body is burning fats for fuel rather than carbohydrates.
The ketogenic diet requires a ratio of 70% of your total energy from fat, 20% from protein and 10% from carbohydrates.
Fill out the form below to have this Keto Guide land in your inbox!
WHATS INSIDE?
What is a ketogenic diet – the science behind it?

Benefits of a Ketogenic Diet – foods to eat and foods to avoid.

Calculating your Macro-nutrients – counting kilojoules.

Keto meal plan – keto snacks along with a 3 day sample meal plan.

"Must Try" Keto recipes – we've included a few delicious recipes to get you started…

Supplementation – recommended supplements to assist your ketogenic lifestyle.

Frequently asked questions – along with additional references.
THE SCIENCE BEHIND A KETOGENIC DIET
Find out how ketosis is used to encourage your body to break down unwanted fat, repurposing it as a fuel for energy.
FOODS TO EAT AND AVOID
Many foods contain "hidden" carbohydrate sources which could negatively impact the affects of ketosis. We share a few foods to eat and avoid in this guide.
COMMON QUESTIONS ABOUT ADOPTING A KETO DIET
We explore the frequently asked questions around ketosis, its effects and how it impacts the body and/or your well being.
PRODUCT BASKET
Below are a few products that we believe will be a great help towards your goals of getting fit and staying in shape. Feel free to browse our online store further for more great sports nutrition supplements.