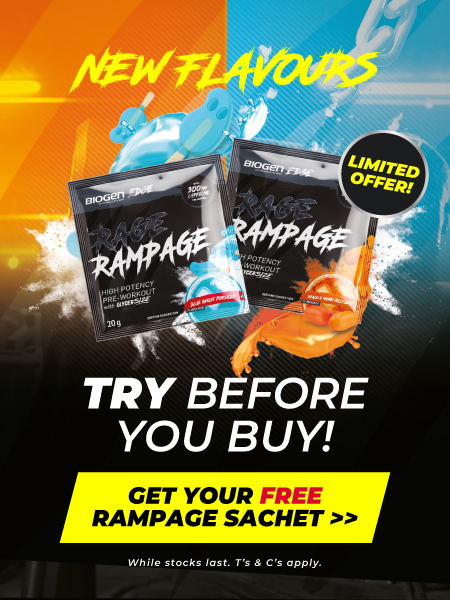 Unleash The Beast with Rage Rampage!
Sample Our New Rampage Pre-Workout Flavours Before You Commit!
Ignite your workout with an adrenaline-fueled kick, courtesy of the electrifying new Biogen Rage Rampage Pre-Workout flavours – Peach & Mango Jellybean and Ghost Popsicle, the undisputed champions of the Biogen Edge Series.
Dare to be the pioneer and seize the chance to Try Before You Buy before the world catches on!
Enlist in the elite Rampage militia today and secure your FREE sample sachet at a Dis-Chem Pharmacy near you! Unleash your inner savage and stay on the frontline of innovation, with exclusive insights into the latest developments in the Biogen Edge Series, fueling your relentless journey towards uncharted fitness realms.
Success dons many masks, but the secret sauce remains unyielding: unrelenting commitment, unwavering discipline, and an unquenchable thirst for self-improvement, each and every day. This Is Rampage.
Sign Up Now for your FREE Rage Rampage Sample Sachet!
This Is The Rampage
Biogen Ambassadors along with a handful of excited members of the public got together for an incredible night, as we unveiled our latest performance development for the first time! Check out: www.instagram.com/biogen_edge/
High Potency Pre-Workout!