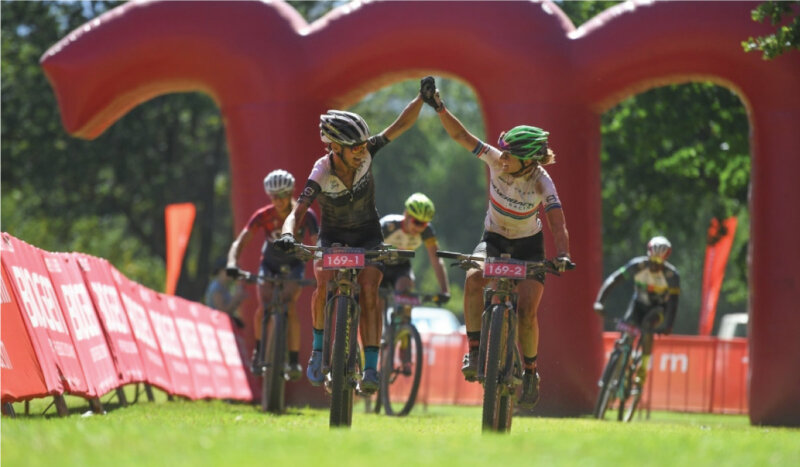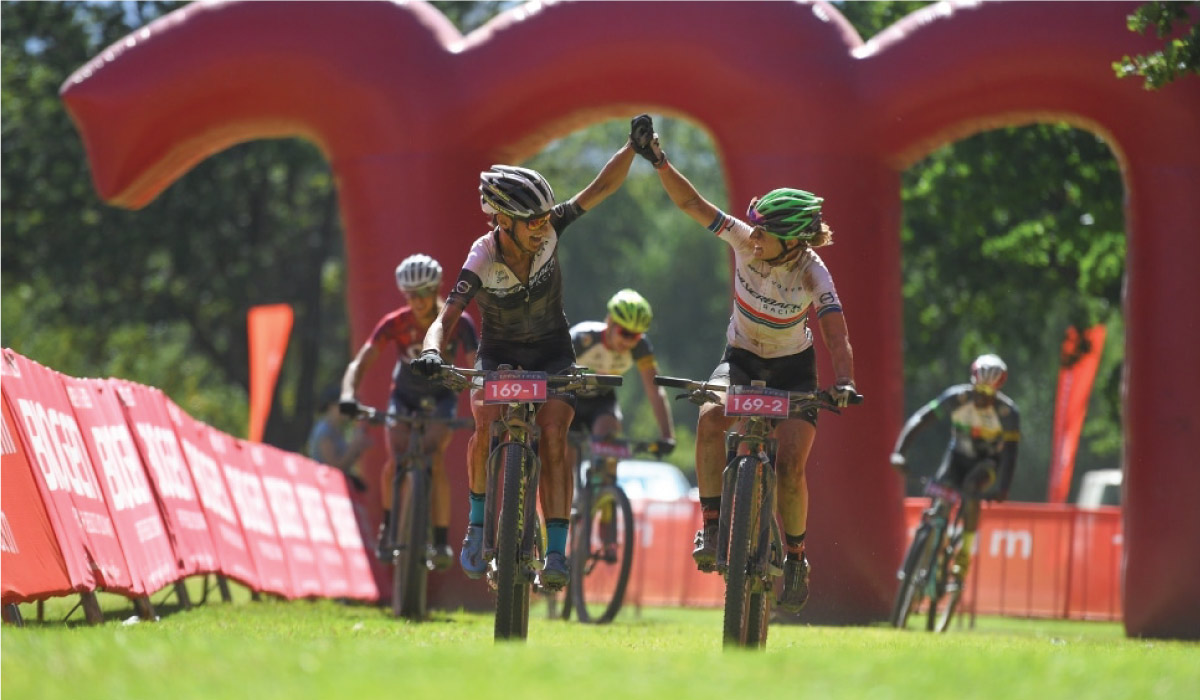 The 2022 Momentum Medical Scheme Tankwa Trek presented by Biogen is done and dusted but the memories and race experience linger on in the minds of the passionate mountain bikers who participated as VIP Biogen guests.
This iconic four-day multi-stage mountain bike race takes riders on breathtaking trails through the Bokkeveld and winding routes in the Witzenburg area.
"It's the purest four days of mountain biking you can find," says Springbok rugby legend and Biogen VIP rider John Smit, who now rides to create better balance in his business life after retiring from pro rugby and, more importantly, to manage his weight.
Early season test
With its traditional February slot on the race calendar, this early-season race is a stern test for riders and a popular preparation race for those tackling the Absa Cape Epic.
"It's a tough, technical, proper MTB event that takes riders through a rollercoaster of emotions," explains VIP guest Mike Elliot.
"The experience was one of the best stage races thus far," agrees Biogen teammate, Dawie de Villiers.
What does #BEYOURBEST mean to you when racing your bike?
Floris Botha: "Striving to be better than yesterday and doing it clean and safe."
Adrian Franken: "Being part of a team that looks after each other."
Steve Price: "Being accountable to myself to give it my all, but also the association with something I care about."

Mike Elliot: "Always putting in your best effort and challenging yourself to be better every time you get on the bike."

John Fry: "Never forget what I'm doing and always enjoying the process."

Auralia Edwards: "Have fun and feel strong doing it."
This challenging race route feeds Elliot's passion for riding. "I love to test myself and put my body through its paces. I love the contrast between suffering up the climbs and the rush of endorphins you get when you get to the top."
Beautifully tough
While the race poses a serious test of fitness, riding skills and endurance, it consistently attracts a sold-out field due to the unforgettable experience.
"It is a beautifully tough, proper mountain bike race," says Dr Rick Diesel, who rides to challenge himself, see the country and get outdoors.
"I feel privileged and grateful to ride in such a beautiful part of South Africa," adds Biogen team member John Fry.
A test of body and mind
Tough but rewarding is how Lee Ziervogel sums up the 2022 Tankwa Trek experience.
"I ride to connect with myself, with nature, my bike and others. I ride for grounding, laughter, fear, fun, faith, rubber, dirt, burning lungs, endorphins, and recharging after the workweek," says Ziervogel.
Local endurance sports legend, Nedbank Running Club team manager and Biogen team rider Nick Bester highly rates the Tankwa.
"This is a one-of-a-kind MTB race – one that you will never experience anywhere else in the world! It is iconic, tough, scary, scenic but so rewarding!"
Boasting some of the most unique scenery South Africa has to offer and pristine riding conditions, riders tackle routes through rocky outcrops and steep climbs on a mixture of hand-built, smoothly sculpted and rough and loose trails.
Iconic Tankwa Trek moments:
John Smit: "Finally cresting the Merino monster! That was pretty tough but the decent afterwards is spectacular!"
Mike Elliot: "I loved the sandy technical single-track closer to the Kaleo Farm area."
Nick Bester: "Day 3 with the monster climb and then the single-track downhill."
Nic White: "The moment each day when the hustle of the start was done and we had settled into a good group to tackle the stage. Looking around to see my Biogen-clad teammate sitting pretty, realising we were in a special place, with special people and enjoying what we love!"
Jonathan Peers: "Supper time with the team."
Unrivalled experience
Another VIP Biogen guest Adrian Franken is unequivocal in his assessment of the Tankwa. "It is the best race on the local calendar. The entire event, from the Biogen VIP treatment to the food, to the water points, to the overall gees of everyone involved is the best I have experienced."
"It really is more of an awesome life experience than just an MTB stage race," affirms Greg Imbriolo, who rides for the adventure, fitness, camaraderie and freedom that a bike brings.
Former cycling pro, Nic White, who rode resplendent in Biogen-branded kit for the race, explains that the Tankwa Trek was a glimpse into the potential that stage races hold in a proper South African setting.
"Combined with the special support from the Biogen team, I had the opportunity to be my best, as well as look my best!"
Biogen VIP guest Auralia Edwards says she had the adventure of a lifetime.
What does #BEYOURBEST mean to you when racing your bike?
Greg Imbriolo: "Reaching outside of your comfort zone to combine multiple disciplines to achieve your best, physically and mentally, in both training and events."
Nick Bester: "The best supplements to support and heal, and energise the demanding efforts which I place on my body while participating in epic events and during training."
John Smit: "Taking great pleasure in surpassing my expectations of a good day out on the bike (and all those around me) for a big oke!"
Dr Rick Diesel: "Always being grateful for the opportunity you have and for your health. Being a better person and helping those around you."
Jonathan Peers: "Being better than yesterday in everything you do."
Karoo hospitality, VIP treatment
Riders also get to enjoy true 'Karoo hospitality with a world-class race village at Kaleo Guest Farm – a key element in the overall enjoyment of the event.
Floris Botha, who rides to live a healthy and competitive lifestyle while having fun with great people, agrees: "Besides the ride, the way we were taken care of by Biogen and the great people that were part of the race was a highlight of the event for me."
Franken adds that the Biogen VIP camp is a unique element that truly elevates the race experience.
Steve Price, who rides for fitness, to test himself, and to interact with other like-minded people, echoes this sentiment: "Being in the Biogen VIP camp section allows for proper social interactions and builds great camaraderie."
The team dynamic
This camaraderie is what being a Biogen team member is all about, believes Franken. "It's about being part of something bigger than just the race… about being part of a team that looks after each other."
"Meeting and spending time with such a diverse and amazing group of people from Biogen added such value to the experience. You learn so much chatting to them," adds Elliot.
"The gees was great and the riding was hard! But that's Tankwa and why we do it," asserts Roan Hammond.
Riding with a partner who could lend support was an important factor in Jonathan Peers's race experience. "While the training came together, my partner was great and helped a lot."
Iconic Tankwa Trek moments:
Roan Hammond "Getting to the top of the Merino and knowing that the back of the race was now broken."
Lee Ziervogel: "Mushroom rocks, phenomenal downhills, splendid views, tired legs, friends, connections, laughter and war story-telling, massages, beers, great meals and the best finish line reward – a Biogen protein shake."
Bronwyn Lewis: "I remember the water points most fondly and the Biogen chocolate recovery shake on the finish line each day. The views and course were also top-notch."
John Fry: "Riding with a great partner and being part of the Biogen team."
Auralia Edwards: "Having a village to go home to."
Lessons learnt
For those planning to tackle the 2023 Momentum Medical Scheme Tankwa Trek presented by Biogen, riders share some first-hand advice following their race experience…
"I would focus on better race preparation because my build-up was a little disrupted," says Greg Imbriolo.
Bronwyn Lewis offers some keen technical advice to future competitors. "I would put a 32 front chainring on for all the climbing and I would do a lot more technical training over lots and lots of rocks."
"I would do more heat training," adds Edwards, while Dr Diesel also recommends riding tougher trails in the heat. "I would also do more climbing training," he adds.
Hammond would include more strength training in his preparation. In this regard, Lewis would focus more on upper body strength to prepare for the roughness of the terrain and descents.
White would use the experience to help others in their preparation. "I would aim to document what I do prior to the event a little more, giving some insight into the preparation necessary to get to as good a level as possible."
What does #BEYOURBEST mean to you when racing your bike?
Nic White: "To still get that great feeling of flow and speed while I ride. Hopefully legs and body stay in sync and I keep feeling fluid. Despite being older and training less than I did as a pro, I can still enjoy my level."
Roan Hammond: "It's about more than just racing and fitness. It's also about finding the healthiest, disciplined and overall best version of yourself."
Lee Ziervogel: "Honouring my body so 'we' can partner to have the best time on the trails through nutrition (including Biogen supplements), hydration, rest and stretching!"
Dawie de Villiers: "Being part of a team and being proud of the association."
Bronwyn Lewis: "Being present, taking it all in and enjoying every minute of the challenge."
Ziervogel would include more hill and technical training, "And some heat training, even though we were lucky with the weather."
Consistency would be Fry's aim to have a better lead up to the race.
"I would think and plan my nutrition better," says de Villiers.
"I would take an extra pillow and blanket!," muses Bester.