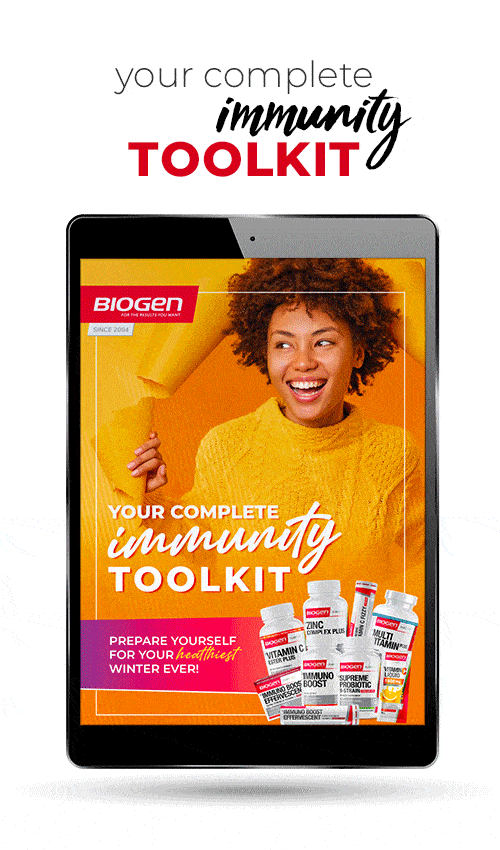 GET YOUR FREE WINTER IMMUNITY TOOLKIT
Discover how you can supercharge your immunity to give your body the support it needs this winter with this easy to follow #BiogenWinterImmunity guide.
By giving your immune system extra support with wholesome nutrition, regular exercise and quality supplements, coupled with a few proactive measures, you could reduce your risk of infection this winter. We'll also add you to our weekly mailing list that will send you tips, recipes and more workout ideas to help you stay motivated and on track in the chilly winter months!
Fill out the form below to have your Immunity Toolkit land in your inbox!
WHATS INSIDE?
Tips to stay healthy – avoiding nasty winter bugs.

Hydration – and the impact it has on your immune system.

When you're sick – what you need to know if you get infected…

Importance of exercise – the effect regular exercise has on your immune system.

The sleep factor – supporting your body with quality sleep.

Stressing less – proactive stress related tips to prevent the sniffle.

Vitamin Guide – keeping your immunity at it's best.

Gut Health – the link between gut health and your immunity.

Recipes – to boost your immune system.

For the kids – tips to keep your kids healthy.
POTENT IMMUNE-BOOSTING AND INFECTION-FIGHTING FOODS
Find out how fresh, nutrient-dense fruits and vegetables are also packed with antioxidants, which can help boost immunity and fight off colds and flu.
EXERCISES FOR ENHANCED IMMUNITY
Exercise improves overall health, which boosts immune function. We share a few exercises to get you started.
Fuel your body the right way with nutritious meals and say goodbye to colds and flu this winter.
PRODUCT BASKET
Below are a few products that we believe will be a great help towards keeping you healthy this winter. Feel free to browse our online store further for more great vitamins & herbal products with an immune focus.