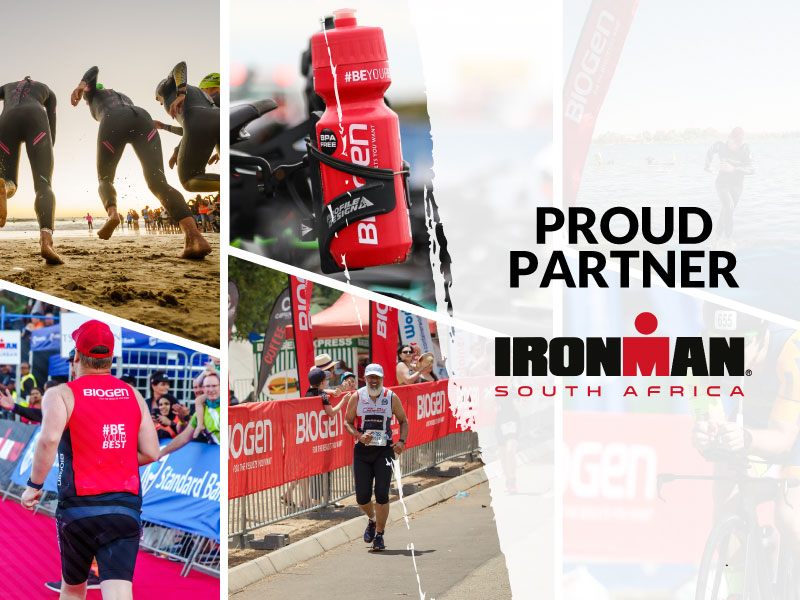 Biogen will be the official nutrition partner for the 2019 IRONMAN South Africa events.
NELSON MANDELA BAY, South Africa (November 21, 2018) – IRONMAN® South Africa, a Wanda Sports Holdings company, is proud to announce that Biogen will be the nutrition sponsor for the 2019 IRONMAN South Africa events.
"We are thrilled to have a well-established partner such as Biogen on our side. With a growing demand for sports performance products, it is important for us to provide our athletes with the best products on the course," says Keith Bowler, Managing Director of IRONMAN South Africa. "Biogen aligns well with our I AM TRUE® program which promotes clean sport and the integrity of IRONMAN racing by ensuring that athletes know and understand their rights and responsibilities. Anti-doping is very important us."
"Biogen is incredibly proud to be partnering with the world class series of events that fall under IRONMAN South Africa's stable," says Brandon Fairweather, General Manager of Biogen South Africa. "After nearly 15 years in sport, partnering with IRONMAN is certainly a highlight for us. We look forward to providing these amazing athletes with a range of sports and wellness products designed to support their overall health and performance"
About IRONMAN
A Wanda Sports Holdings company, IRONMAN operates a global portfolio of events that includes the IRONMAN® Triathlon Series, the IRONMAN® 70.3® Triathlon Series, 5150™ Triathlon Series, the Rock 'n' Roll Marathon Series®, Iron Girl®, IRONKIDS®, International Triathlon Union World Triathlon Series races, road cycling events including the UCI Velothon® Series, mountain bike races including the Absa Cape Epic®, premier marathons including the Standard Chartered Singapore Marathon, and other multisport races.
IRONMAN's events, together with all other Wanda Sports Holdings events, provide more than a million participants annually the benefits of endurance sports through the company's vast offerings. The iconic IRONMAN® Series of events is the largest participation sports platform in the world.
Since the inception of the IRONMAN® brand in 1978, athletes have proven that ANYTHING IS POSSIBLE® by crossing finish lines at the world's most challenging endurance races. Beginning as a single race, IRONMAN has grown to become a global sensation with more than 200 events across 50 countries. For more information, visit www.ironman.com.
About Wanda Sports Holdings
Wanda Sports Holdings is the world's leading sports business entity, founded to capture the opportunities in the global sports industry and to contribute to the prosperous international sports landscape – in three key areas:
1) Spectator Sports (media and marketing business)
2) Participation Sports (active lifestyle business)
3) Services (digital, production and service business).
Wanda Sports Holding incorporates the international sports marketing company Infront Sports & Media, the iconic endurance brand IRONMAN, and Wanda Sports China. The headquarters are in Guangzhou, China.
About Biogen
Biogen is a South African based Sports and Wellness brand, founded in 2004 that has quickly grown to one of the premium wellness brands in the country, with a strong focus on safe and responsible sports nutrition use.
For close on 15 years, the brand has taken great pride in offering consumers and athletes high quality vitamin and sports nutrition products, with an emphasis on health and performance, in that order. For more information visit: www.biogen.co.za and to browse our range for professional and competing athletes click here.