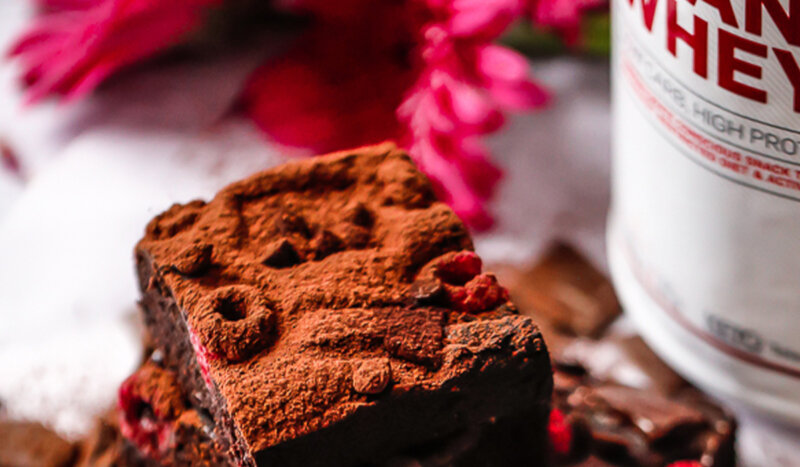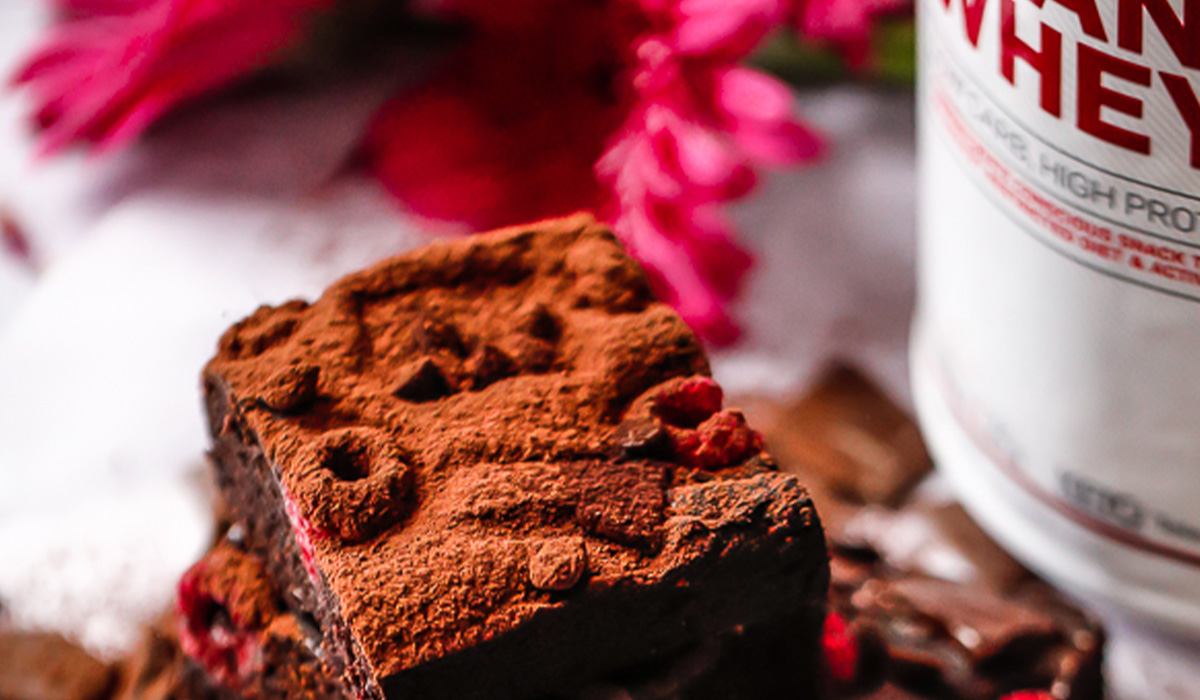 A fresh twist on the humble chocolate brownie. Go on, you know you want to give it a try…
Made with Biogen Lean Whey, these brownies are packed with protein and flavour while the raspberries balance out the sweetness and add a pop of colour.
Ingredients
2 tbsp flaxseed meal or chia meal
11/2 cup self-rising flour
1/4 cup Biogen Raspberry Protein Powder
¼ tsp baking soda
100 g 70% cocoa dark chocolate
1/3 cup cacao powder
1 tsp instant coffee (optional)
½ tsp salt
1/3 cup + 1 tbsp boiling water
1 heaped cup sugar
¼ cup + 2 tbsp melted coconut oil
100 g fresh raspberries
Flaxseed is rich in omega-3 and aids in digestion. When used in baking, it can also act as a thickening agent, egg substitute and even a stabiliser.
Method
Prepare chia or flax eggs by mixing ground-up seeds with 3 tbsp of water in a small bowl. Set aside to activate.
Preheat the oven to 180° C.
Line a 20 cm x 20 cm baking tin with baking parchment. Make the baking parchment stick out of the tin so that you're able to remove the brownies from the tin a little easier.
Weigh your flour, and protein powder and then add baking soda. Mix together and then set aside.
Boil a kettle of water, and while the water is boiling, chop your chocolate very finely.
Add mixture to a big mixing bowl, with cacao powder, instant coffee (if using) and salt. Stir well.
Pour 100 ml / 1/3 cup + 1 tbsp boiling water into the chocolate, cacao powder and salt mixture. Stir with a spoon so that chocolate melts in the hot liquid.
Add in the sugar, flax egg and coconut oil.
Using a hand mixer, blend the mixture until it's smooth. Then slowly add the flour and baking soda mixture. Add a little at a time and stir it into the chocolate mixture with a spoon.
Stir until there are no flour pockets visible, but no more than that. The batter will be super thick so you may need to use your hands towards the end.
Transfer the batter into the prepared baking tin. Smooth it with a spatula and decorate with fresh raspberries and more chocolate.
Bake the brownies on the middle shelf for about 22-24 minutes.