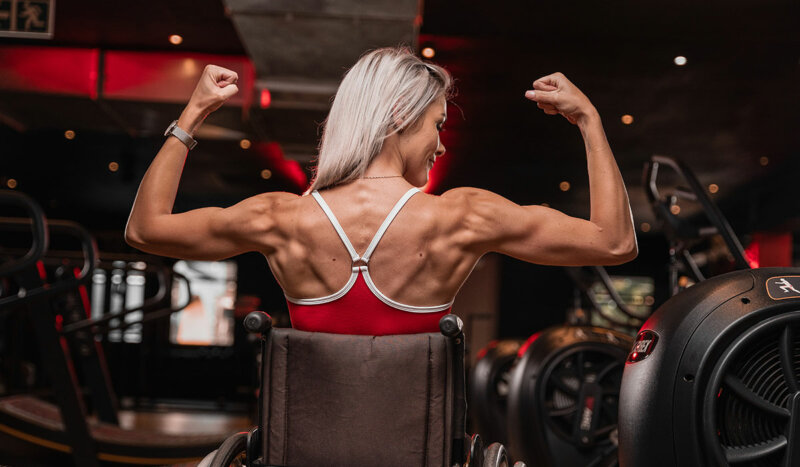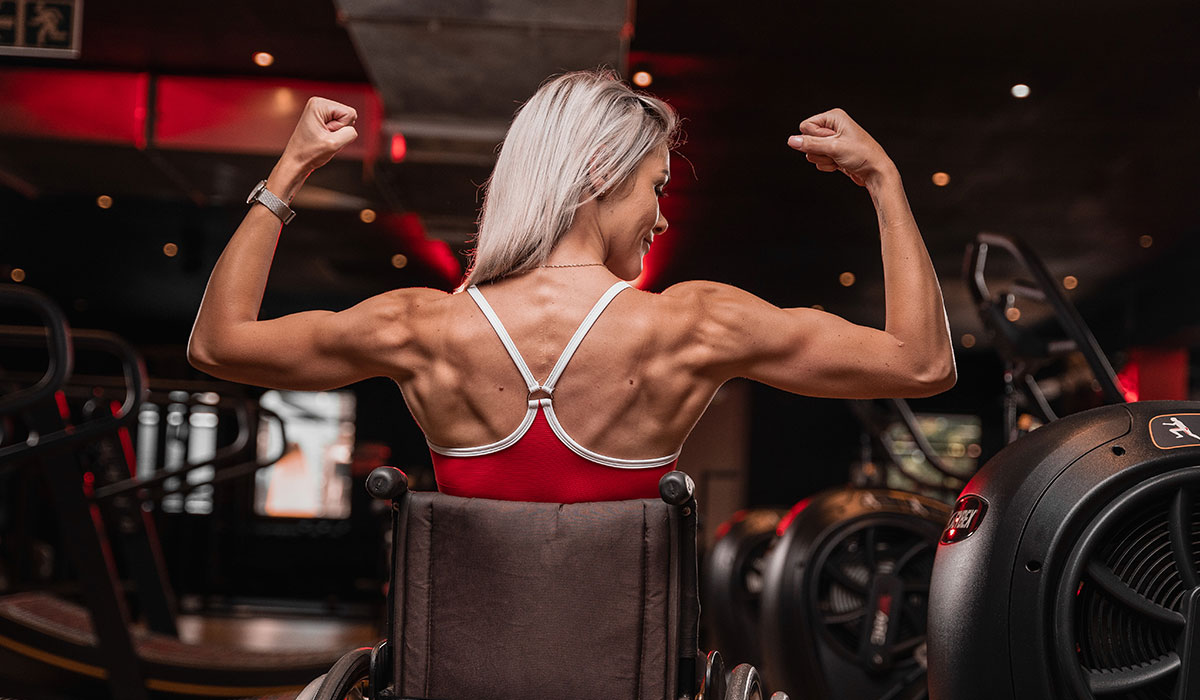 #TEAMRED Biogen brand ambassador Ilisha Erasmus was an energetic, busy, people's person prior to 2018. "I did freelance promotions and I loved being busy and always on the go. And I loved dancing – it kept me busy. That is when I was at my happiest."
She also enjoyed driving every day with her favourite music on. "My kids and I would always sing in the car on the way to and from school. It was our bonding time listening to each other's song requests on the road just appreciating the moments."
But it was also driving that forever changed her life when Ilisha was involved in a car accident on 30 September 2018. The accident left her paralysed from the chest down after she broke 8 vertebrae and suffered a complete break in her spinal cord at T6 and T7. 
She also had other severe injuries, including blood on the brain, broken ribs, a punctured left lung, and a broken right arm. "Following surgery, I now live with metal in my back, with 15 screws and rods, as well as metal plates in my right arm."
While working through rehab, Ilisha says she found it extremely difficult to process how she had gone from an able body to a disabled one. "It took me a long time to get up and start from scratch, learning everything all over again: how to dress myself, how to sit without balance, literally everything," she recalls. 
"I was basically a baby all over again. I also had a pressure ulcer that limited my daily tasks so it took me longer to recover and get back up." However, Ilisha drew inspiration from her kids and used that as her motivation to start rebuilding her life after the accident.
"My accident happened just before my twin boys turned two and my oldest boy was five. They only saw me four weeks after my accident for the first time in ICU. It was such an emotional day as they didn't really know what was going on." 
Ilisha recalls the traumatic experience when her boys saw her in hospital for the first time after the accident. She was unable to walk and in a wheelchair with her back brace on, a broken arm and her head shaved. "I realised that no matter how hard this is going to be, I need to push through for my boys. They are my reasons for not giving up!"
While Ilisha acknowledges that her injury took a great deal from her, which she will probably never get back, it has also helped to transform her life and her perspective. "As crazy as it sounds, I wouldn't be who I am today without my accident. I looked at my wheelchair as a limit for a long time and as something that could stop me from achieving so much. But I now realise that I would never have reached this point in my life as an able-bodied person."
Ilisha also learnt that life is unpredictable and that you never know what tomorrow holds. "Don't ever think it can't happen to you."
Ilisha turned to the gym and weights to regain some self-sufficiency. "Weight training strengthened my upper body, which made it easier for me to transfer from my wheelchair into the bath, into the car, onto the couch and many other places. It also gave me the upper body strength to push to those hard-to-reach places." 
Ilisha's training split:
Day 1: Chest & back
Day 2: Shoulders & arms
Day 3: Full upper body
Day 4: Rest
Repeat split
Cardio every day for 30 minutes
And she also used the physical training as a form of therapy by always challenging herself to be better than she was yesterday.
As Ilisha's strength improved and her body changed, her confidence grew, too. This prompted her to put herself out there in an effort to inspire others. Ilisha decided to take her personal challenge to the next level by entering a Bikini and Fitness competition.  
"It's a disciplined and passionate sport that is not for everyone. You need serious dedication and sacrifice to compete on stage and I saw it as a great way to challenge myself after my accident." 
Ilisha was also into modelling and pageantry before her accident, which meant she could combine two of her passions by competing as an athlete. "And it was always my dream to be on stage and to inspire and motivate others."
The build-up to her first competition was a mix of emotions, recalls Ilisha. "I was so excited to be on stage and showcase my talent but, at the same time, I was nervous about how good my presentation and performance would be. At the end of the day, my focus and confidence was 100% so it was a great experience." 
Ilisha then decided to enter the annual Biogen Face of Fitness cover model search to show more people that no matter their situation, nothing is impossible. "I want people to realise that sometimes you have to hit rock bottom to realise your own strength. I now have more perseverance than I could ever have imagined, and I want other people to know that they can do whatever they put their minds to."
Ilisha's inspirational story caught the attention of title sponsor Biogen and the team offered her a brand ambassadorship, even though she did not win the cover model search competition. "It's a big honour for me to be in such a prestigious team. All ambassadors are role models and excellent athletes in their field. We inspire each other to achieve our goals and take #TEAMRED to the next level."
Ilisha's Biogen supplement plan:
Ilisha now believes that she has the power to inspire and motivate everyone else around her through her passion for fitness. She plans to compete at the NPC Jozi Classic again this year, despite experiencing health complications recently.
"It makes my heart so happy if I can inspire and motivate others to put their best into whatever they do. I know that it's possible. If I can do it, there's no excuse for anyone else. We can make it work."
For anyone who might be struggling with their own battle right now, Ilisha says: "No matter what you are going through, always look up and never give up. Take each day as it comes, surround yourself with people who want you to be the best version of yourself and keep going."