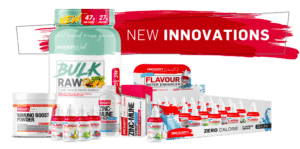 The next batch of new Biogen supplements has dropped! The latest release continue the brand's bold innovation drive and its commitment to keep delivering products that help health-conscious individuals, fitness-focused gym-goers and performance-minded athletes achieve their goals in these challenging times.

Gain mass with Biogen BULK RAW, which bridges the gap between sports supplements and performance foods.
Biogen has formulated a premium plant-based mass gainer made with real food sources. BULK RAW delivers 27 g of protein per serving to limit muscle breakdown after training and promote muscle recovery. A combination of sweet potato, raw oats and rice provides 47 g of quality carbohydrates per serving, which may assist in replenishing glycogen stores and boosting energy levels during training.
The new product offers an excellent source of protein and carbohydrates for individuals looking to gain lean muscle and those following a vegan or dairy free lifestyle.
Available in: Vanilla and a Cocoa flavour made with natural cocoa.

Drinking adequate water is vital for optimal hydration, so stay hydrated with Biogen's new Clear Flavour Water Enhancers.
Choose from a wide variety of delicious flavours to enhance the taste of still or sparkling water, without adding unwanted colourants, sugar or calories. These concentrated liquid drops contain zero aspartame and will elevate your daily hydration experience.
Available in: Apple, Berry, Lime, Litchi and Pineapple flavours.

Biogen's Immuno Boost Powder contains a blend of ingredients that can rebuild and strengthen the immune system.
The formulation includes a blend of essential vitamins and minerals, including Zinc and extra strength Vitamin C to fight free radical damage and support immune cells.
Vitamin D3 is also added to combat inflammation, boost immune cell production and aid calcium absorption, which is vital for optimal immune cell function.
This easy-to-mix powdered solution is available in a delightful tangy Orange flavour.

Support your family's immune defence with Biogen's Zinc-mune Syrup Junior for children. The sugar-free syrup is a tasty way to boost your child's nutrient intake with additional zinc, which supports immune function and promotes healthy skin by maintaining cell integrity and promoting new cell formation.
Available in a delicious Raspberry flavour.