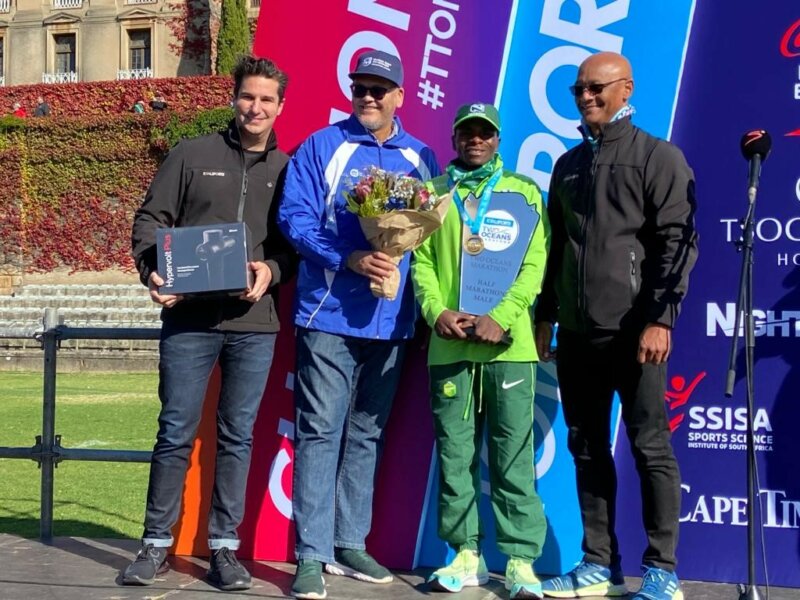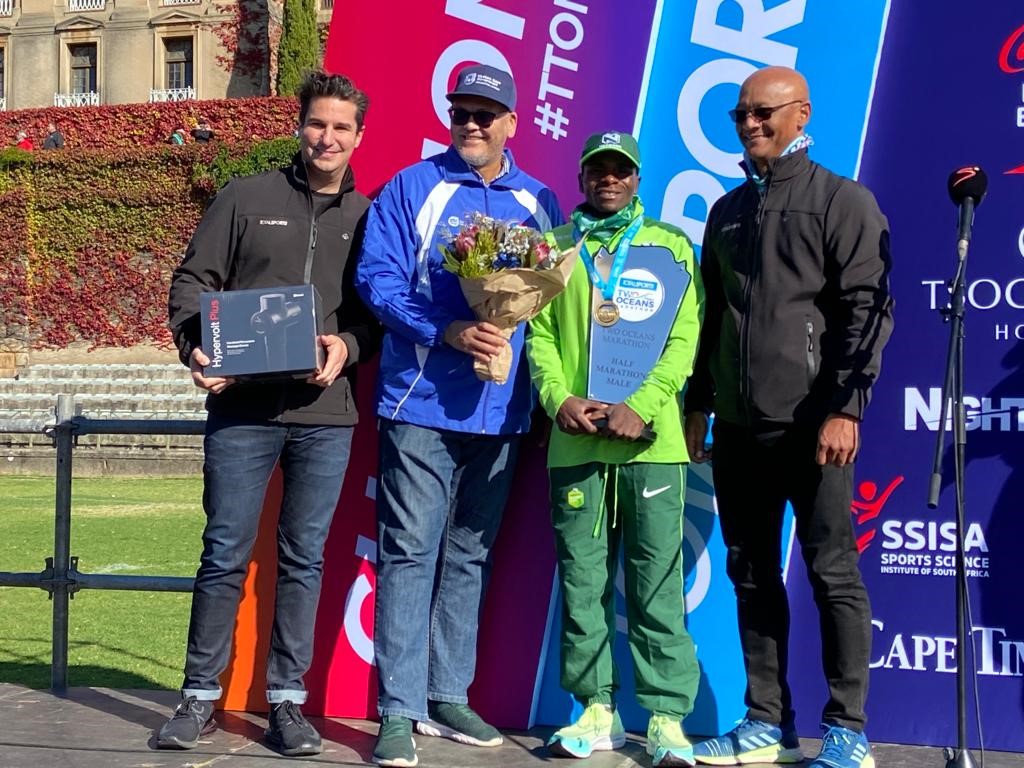 Moses Tarakinyu – Totalsports Two Oceans Marathon Men's 21 km Winner
After a three-year hiatus, the iconic Two Oceans Marathon made a welcome return to the running calendar, and the Biogen-backed Nedbank Running Club didn't miss the opportunity to impress with stellar performances across both the half marathon and classic 56km ultra marathon events.
The 2022 edition was the first time that the Easter weekend's races were split over two days, with a large contingent of Nedbank Running Club athletes tackling the 21.1 km half marathon on Saturday 16 April.
NRC Dominates the Half Marathon (21km)
Nedbank Running Club brought a strong team to Cape Town for the half marathon, with former men's winner Namakhoe Nkasi leading the charge. In the women's race, Stella Marais headlined a strong Nedbank Running Club lineup, with local Cape Town athlete Anel Terblanche in the shape of her life. Known as one of the most competitive half marathons in the country, 6000 runners set off along Main Road in Newlands.
Nedbank Running Club Zimbabwe's Isaac Mpofu and Moses Tarakinyu spearheaded the pack, with the latter running his first ever race in South Africa. As the male athletes made their way to the challenging Southern Cross Drive climb, Tarakinyu split the pack of over 10 runners, which broke the group down to just five. Mbulelei Mathanga threw in a huge surge just after 16km but was reeled in by Tarakinyu as the athletes made their way to the finish at UCT.
Tarakinyu hit the front as the men reached the UCT rugby fields and emerged as the strongest runner on the day, crossing the line victorious in 01:03:31. Teammate Bikila held on for 5th in 1:03:45 and Mpofu finished 9th in 1:04:01. Two-time winner and current course record holder Nkhasi from Nedbank Running Club Lesotho rounded off the top 10 in 1:04:02.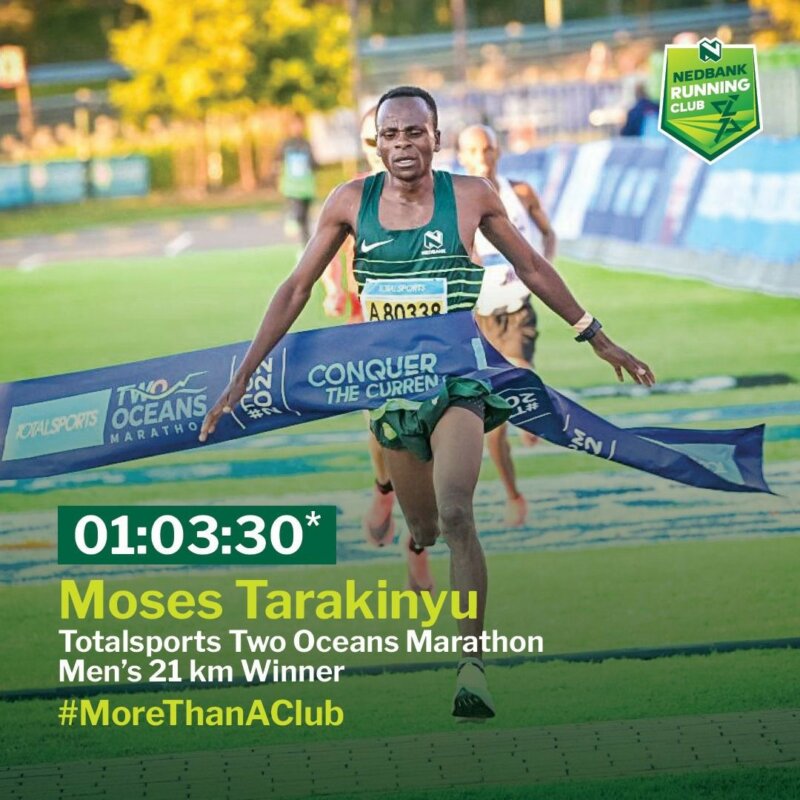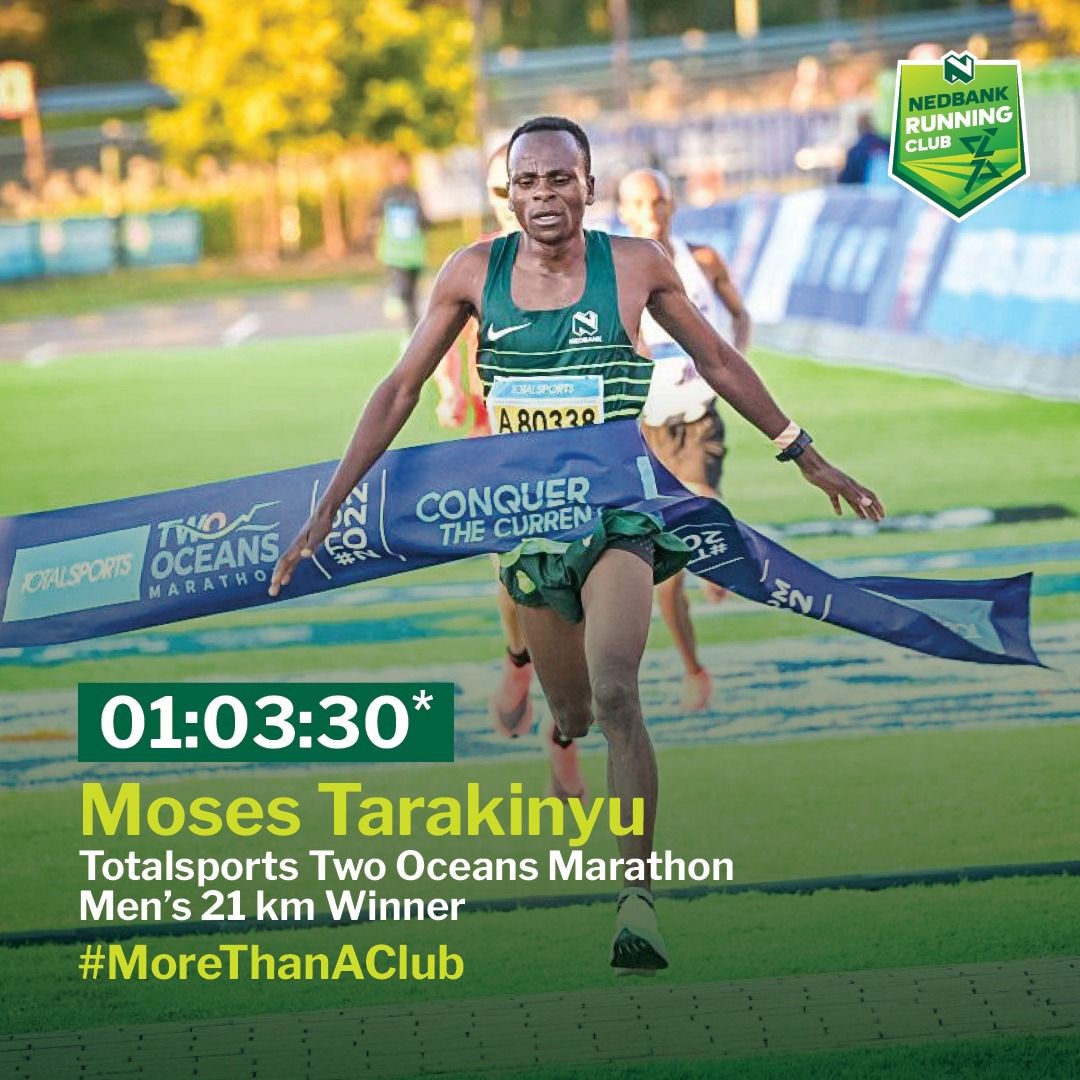 In the women's race, Nedbank Running Club Ethiopia's Kore Gelaye tracked the leaders but fell off after the tough Southern Cross Drive climb. As the race made its way to the finish, Gelaye started to close the gap but ran out of ground to end in second, a mere 25 seconds behind race winner Fortunate Chidzivo. Teamamate Stella Marais, who has been having a fantastic season, was 7th in a new PB of 1:17:36. Anel Terblanche from Nedbank Running Club Western Province was 8th, with teammate Patience Murowe in 9th.
Enthralling action in the Ultra (56km)
Sunday dawned with perfect weather conditions greeting athletes ahead of the 56km ultra marathon following days of strong winds. An earlier-than-usual start meant the elites set off at 5:20 am, with Irvette van Zyl, and former winners Mabhutile Lebopo and Mike Fokoroni leading the team.
It was Van Zyl's second attempt at the Two Oceans after her debut in 2019, where she finished in a credible 3rd. After a consistent training block, Van Zyl was feeling confident and ran the race of her life. In one of the greatest running races in generations, Van Zyl fell just short of an emphatic victory in the women's race, but still ran a time that eclipsed Frith van der Merwe's 1989 course record of 3:30:36, with her finish time of 3:30:31.
A pack of five women, which included Van Zyl, Nedbank Running Club teammates Shelmith Muriuki and Amelework Bosho, and defending champion and former teammate Gerda Steyn, set off at a fast pace. Bosho and Muriuki picked up the pace through Sun Valley and opened up a lead of 47 seconds over Van Zyl at the halfway mark. But Van Zyl was biding her time and, once through the marathon mark in Hout Bay, closed the gap and made her move up the tough Constantia Nek climb to take the lead.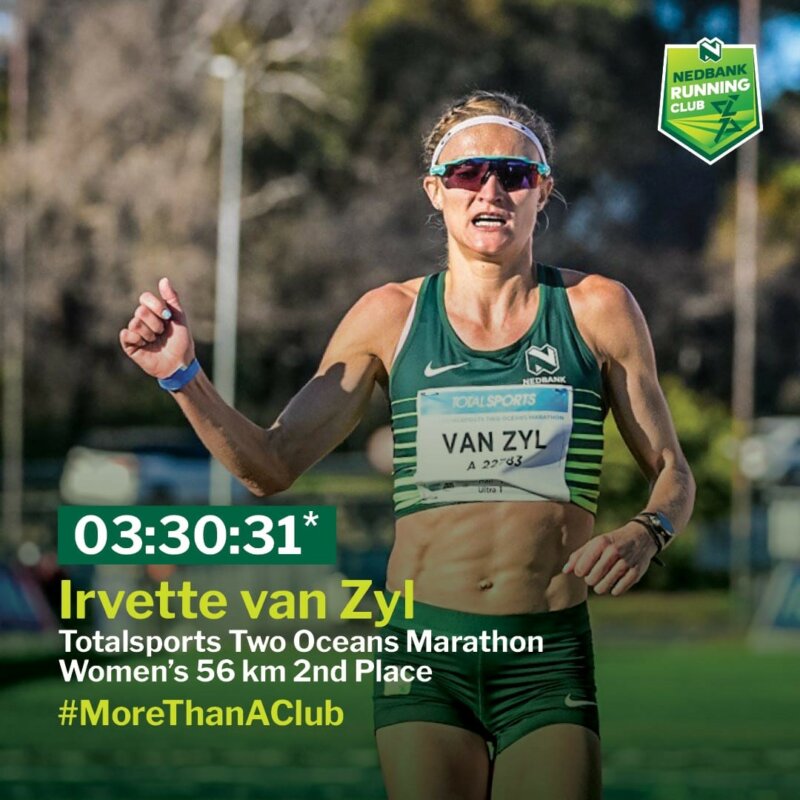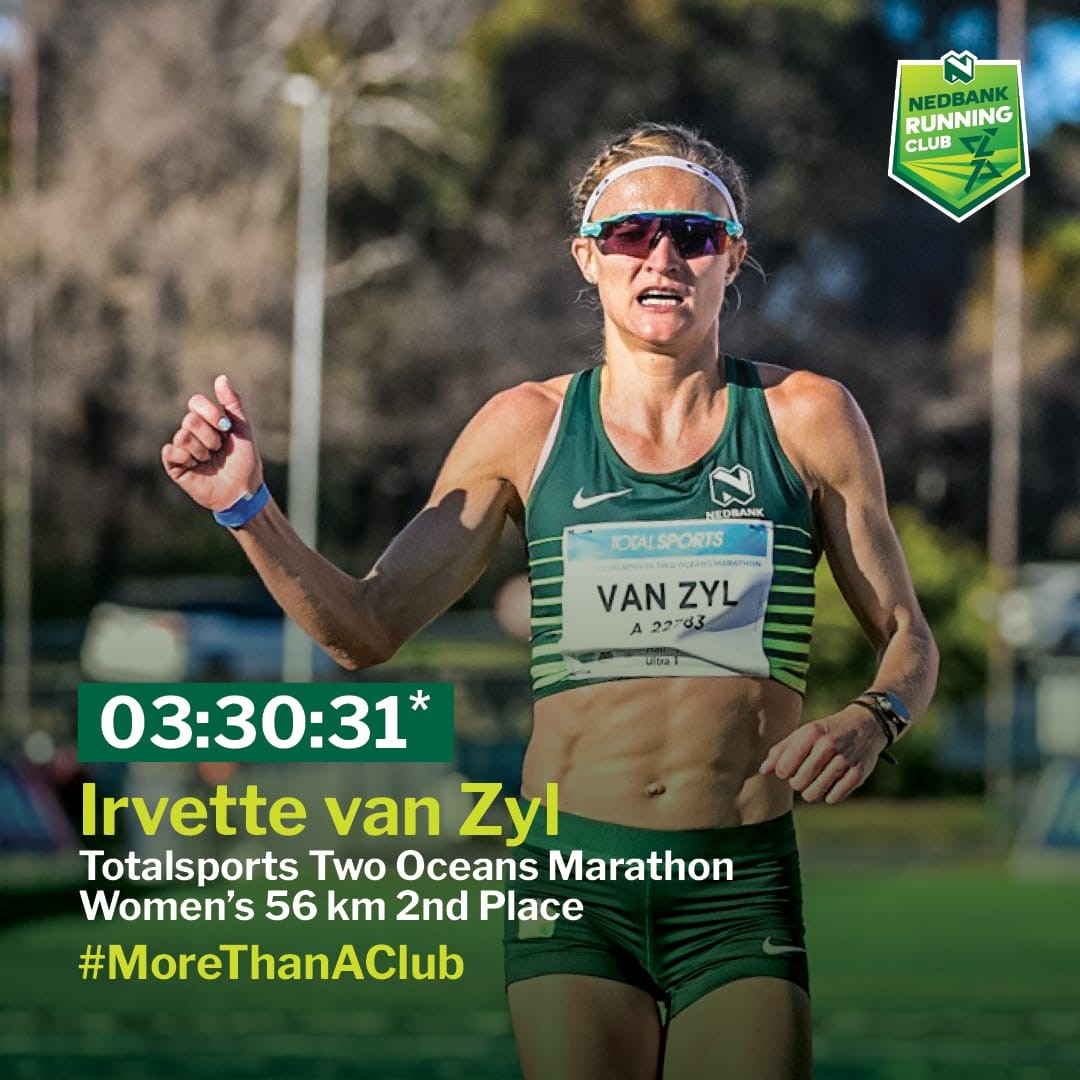 It was only on the final climb to the finish, with only 3km to go, that Steyn caught and passed Van Zyl. But her gutsy effort ensured she finished 2nd, also under the previous record time. "I gave it everything I had and left it all out there and it was an amazing race," said Van Zyl. "I have no regrets at all, and I am blessed that I was part of such a remarkable race."
Headline sponsor of the race, Totalsports also gave Van Zyl a bonus of R50,000 for going under the record.
In the men's race, Onalenna Khonkobe ran a dream debut to finish 6th and earn a well-deserved gold medal. Teammate Jonas Makhele came through towards the end to finish 10th and collect the final gold and top the podium as the first veteran.
Fuelled for success
Delivering these outstanding performances on the day requires high-quality nutrition to fuel these hard efforts, especially over the 56km ultra marathon distance. The Nedbank Running Club provides their athletes with a range of Informed Sport Certified supplements from nutrition partner, Biogen.
Race-day fuelling strategies included a combination of liquid energy and gels from the Biogen Performance Range to provide a mix of quick and sustained release carbohydrates. Nedbank Running Club athletes used a combination of products at their dedicated fuelling points on the route, including:
But optimal race-day performance is impossible without adequate recovery between training sessions and after tough races.
To assist Nedbank Running Club athletes with their recovery needs, Biogen provided a range of products that include a focus on protein and amino acids for muscle repair. The Biogen recovery stack athletes used for Two Oceans includes: