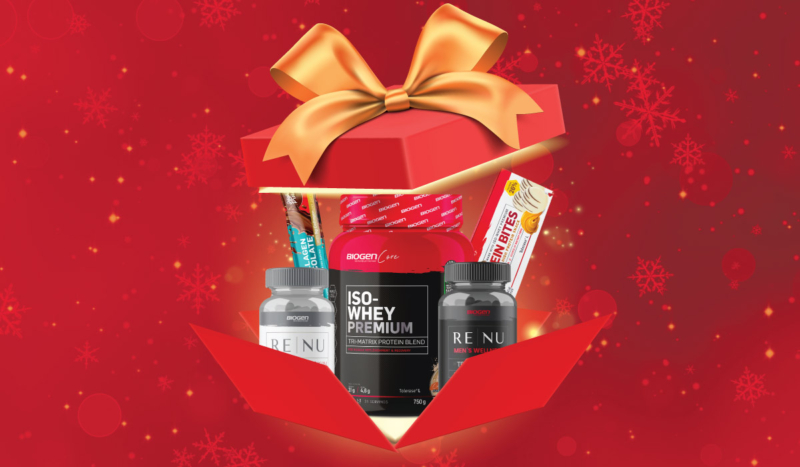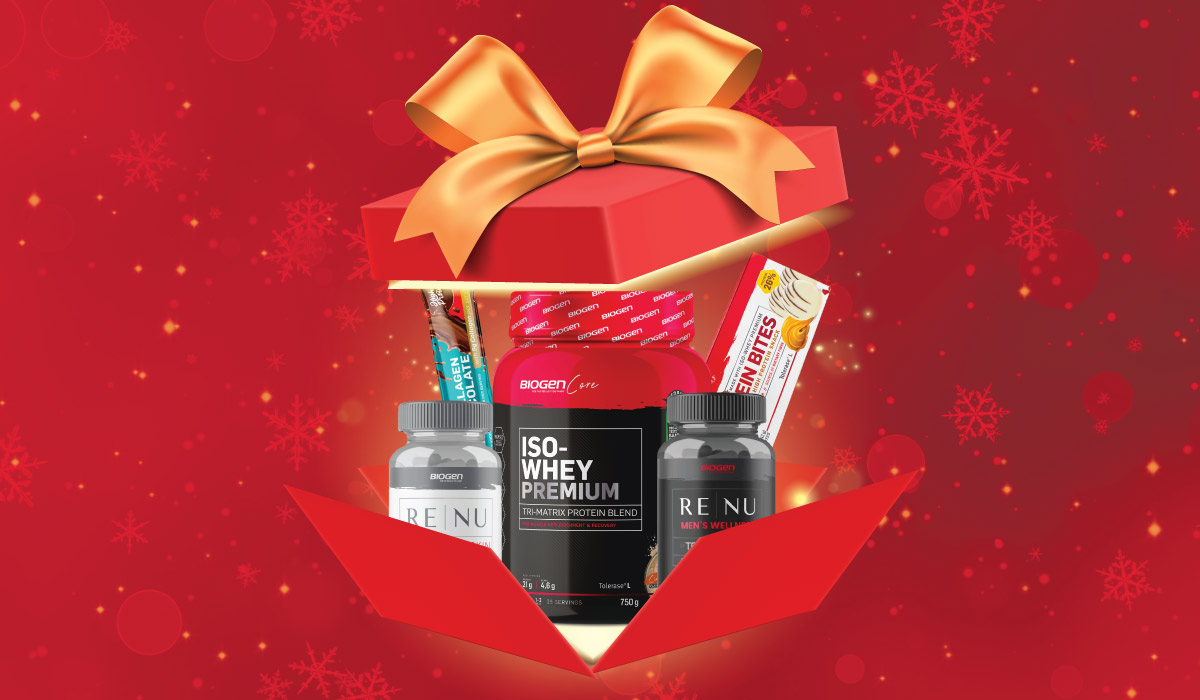 Vibrant health and peak sporting performance are the ultimate gifts that keep on giving, but that doesn't mean you can't spoil yourself or that special training partner.
We've come up with a few festive season gift ideas, from tasty indulgences and supplement essentials to quality branded training gear for added festive cheer from the fitness fanatic in your life! 
The Ultimate Festive Treat Box
Shopping on a budget doesn't mean you can't gift with abundance. And who doesn't love a gift basket or treat box?
We've created a great gift box concept that is overflowing with tasty and indulgent treats that you can gift for under R200. They're also the ultimate unisex gift idea, ideal for secret Santa pressies. 
How to build an attractive gift box:
Step 1: Select a box or basket. Make sure it is big enough to carry ALL these delicious Biogen products. 
Step 2: Choose a gift box filler – great options are RED scrunched or shredded tissue paper, raffia filler or packing straw, large pieces of confetti or RED foam balls. 
Step 3: Pack your gift box with treats, starting on a base of the new Biogen Peckish Much? range with the other smaller items on top.
Step 4: Wrap it in RED wrapping paper and tie it all up in a white bow.
The Biogen Peckish Much? smart snacking range packed with protein, offering an unapologetically indulgent treat that beats those traditional sugar-laden festive treats. These are the ideal products to build your gift box on. Add on other products you know your special someone will love. Choose from various protein-enriched treats like delectable Biogen Protein Bites or Lean Whey Bars, or refreshing RTDs.
Your gift box options include:
And don't stress if you have a vegan or vegetarian foodie in your life. You can substitute dairy-based treats with items from Biogen's Plant Based range:
2. Fitness apparel for her
Boost your bestie's or special lady's workout wardrobe and ensure she trains in style with quality activewear from Boost Gymwear. 
The Biogen-branded Boost Gymwear range is made from premium fabrics, with cuts that support optimal performance and comfort.
Buy individual items or the entire collection at www.biogen.co.za. The range includes:
Boost Gymwear is a local manufacturer and supplier of functional gymwear. It is popular among local and international fitness models and athletes and fitness enthusiasts from across the spectrum. 
Boost Gymwear is the proud apparel sponsor for the Biogen Face of Fitness cover model search competition, and supplies the gorgeous #TEAMRED Biogen fitness brand ambassadors with clothing that makes their social media posts stand out from the crowd!
You'll be hard-pressed to find a better quality gift idea for that special fitness fanatic in your life.
3. Ride your way into their hearts with Ciovita Biogen cycling kit
We've got the ultimate spoil for that passionate cyclist in your life. Spoil them with the best in quality, style and comfort by gifting them Biogen-branded Ciovita cycling kit. 
The Ciovita cycling apparel range includes quality, precision-engineered cycling tops, and bibs made from race-tested Italian Lycra® that feature a custom-made chamois for men and women. 
The Biogen Ciovita range for male and female mountain bikers and road cyclists includes:
The Biogen range is already available at an amazing discount compared to standard retail prices but you can get 10% off our Biogen branded Ciovita kit if you order before 24 December 2022 on www.biogen.co.za. Use discount code: Ciovita10 at checkout. 
4. What everybody REALLY wants: More protein powder!
If you're stuck for gifting ideas, go with a sure-fire winner – protein powder! Protein powder is a supplement staple as these products help to optimise recovery and support lean muscle growth and development to get the most from your training and your body.
Just about every active person relies on protein powders, from gym-goers to endurance athletes. You can even use this versatile supplement in a range of tasty and creative ways in the kitchen to boost the protein content of certain recipes or make quick and convenient protein-packed meals like smoothies, smoothie bowls or breakfasts.
And Biogen has a range of protein options to suit every lifestyle, taste or dietary requirement. Refer to this handy resource guide to pick the perfect protein for the special someone in your life and give them the gift of gains this festive season!
From dairy-derived whey to plant-based options and the latest innovation is protein blends, you won't go wrong with a tub of protein powder.