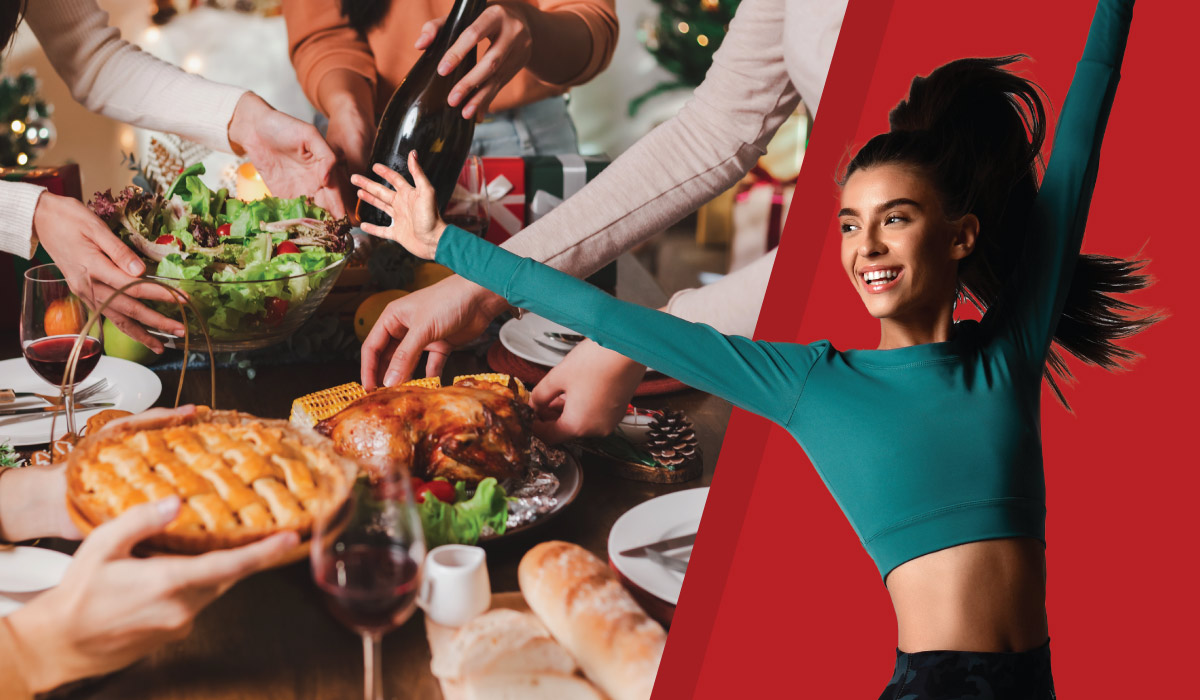 Just because it's party time, you don't need to let your health slide or lose the hard-earned physique you spent all year sculpting. The harsh reality is that it's really easy to undo 11 months of hard work in two weeks of mindless, unrestrained eating.
The festive season is generally a time when families and friends get together to celebrate, and we also have those year-end office parties to get through.
To help you survive the festive feasting with your health and physique intact, follow these 10 tips to stay on track without sacrificing on the enjoyment factor.
1. Set a goal – just be realistic
In an ideal world, we could enjoy all the festive foods and treats placed in front of us and continue adding muscle and losing body fat. But that's an unrealistic expectation. 
That doesn't mean you should forsake your physique or conditioning goals altogether. Instead, aim for the middle ground – create an eating and exercise plan that will ensure you maintain your current physique while partaking in some of the festive food bonanza. 
2. Cultivate the right mindset
Think of the holiday season as a chance to reward your hard work throughout the year, rather than a free pass to eat whatever you want. That means being selective about the foods and treats you indulge in.
3. Pre-empt the calorie overload and plan ahead
Before going to that family gathering or get-together with friends, fill up on healthy foodstuffs like raw vegetables and lean biltong or have a handful of nuts and some fruit. This will help to curb your appetite, which means you'll be less tempted to over-indulge.
If you know that you will break your daily calorie count at the lunchtime braai, you could also eat a smaller breakfast to keep your daily calorie intake in check. 
Brining your own food to a party is also a great way to ensure you have a healthier option on the table, plus you won't turn up empty-handed.
4. Enjoy the spread but be sensible
Balance your plate when you hit the buffet table or braai spread this festive season. Choose your favourite foods and skip your least favourite options so that you don't overeat. 
5. Maintain control
It's important that you savour your favourite holiday treats, but do so in moderation. Eat your main meal slowly and stop before you feel full. And only eat half your dessert. Save the rest for the next day. These are effective ways to ensure you don't overindulge. 
6. Beware the liquid calories
Beware the calories and sugar in common holiday beverages. Whether you're choosing alcohol-free drinks or indulging in a beer, a mixer or some wine, moderation is key. 
Try to drink a glass of water between each order to fill you up and reduce the total liquid calories you consume. 
7. Avoid snacking
When you're at the party, try to stand away from all the food to avoid snacking. Rather dish up one plate and keep your hands and mouth busy with a glass of ice-cold water or a hydration drink.
It is also a sensible approach to avoid snacking while on holiday. The more relaxed atmosphere and abundance of food makes it more likely that you munch mindlessly throughout the day and pack in excess calories. 
8. Support your digestive system
The best way to support your digestive system and help it cope with the food overload is to drink sufficient water, get adequate fibre from natural foods and prebiotic supplements, and include digestive aids like supplemental digestive enzymes and multi-strain probiotics, like Biogen Supreme Probiotic 9-strain or Supreme Probiotic 4-strain.
You can also support your digestive system with a product like Biogen Herbal Cleanser, which contains aloe and ginger to act as a herbal laxative to ease colon function, or Biogen Digesti Gast, a herbal tincture with nine botanical extracts for the relief of symptoms related to gastric and abdominal discomfort like heartburn, flatulence, constipation, nausea and irritable bowel syndrome.
9. Make time for exercise
Your holiday exercise plan doesn't have to be an all-or-nothing equation, either. While there is no need to maintain your regular routine on holiday, don't waste the time by sitting idle. 
Use the holiday to recharge body and mind with different activities. Aim to do something every day, whether it's a walk or run along the beach or in the mountains, or an ocean swim. 
Throw in a few full-body bodyweight outdoor exercise sessions to enjoy your holiday destination while maintaining your fitness levels and physique by burning off a few of those extra holiday calories. 
10. Boost your metabolism
Adding a hybrid thermogenic weight-loss aid to your holiday supplement regimen is a great way to burn additional calories to counteract all the eating while also benefiting from the mental benefits that come from the nootropic ingredients. 
Biogen Thermo Burn combines thermogenic, appetite control, mood-enhancing, mental focus and energy-activating effects in its advanced formulation. 
Biogen Thermo Burn can help promote relaxation and feelings of well-being, support healthy sleep cycles, cognitive function and focus, and help manage acute stress and anxiety to ensure you come back from your holiday feeling refreshed while the thermogenic compounds will support weight maintenance. 
Importantly, if you end up giving in to your cravings and overindulging, don't be too hard on yourself. Put it behind you and work to make better choices during the days that follow by keeping these tips in mind.