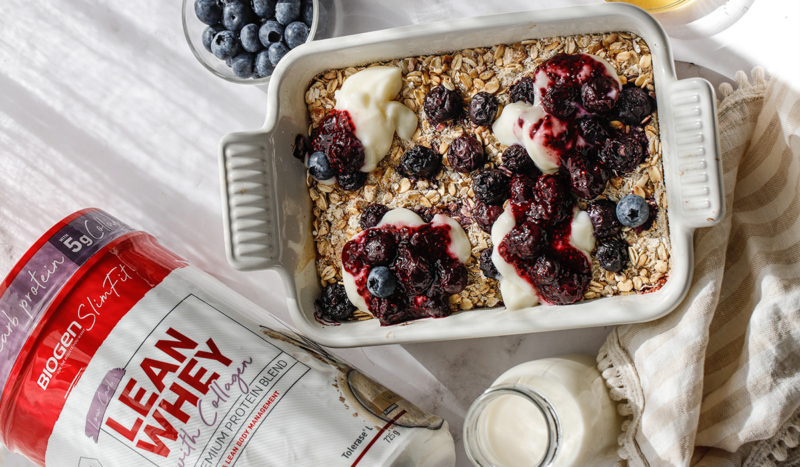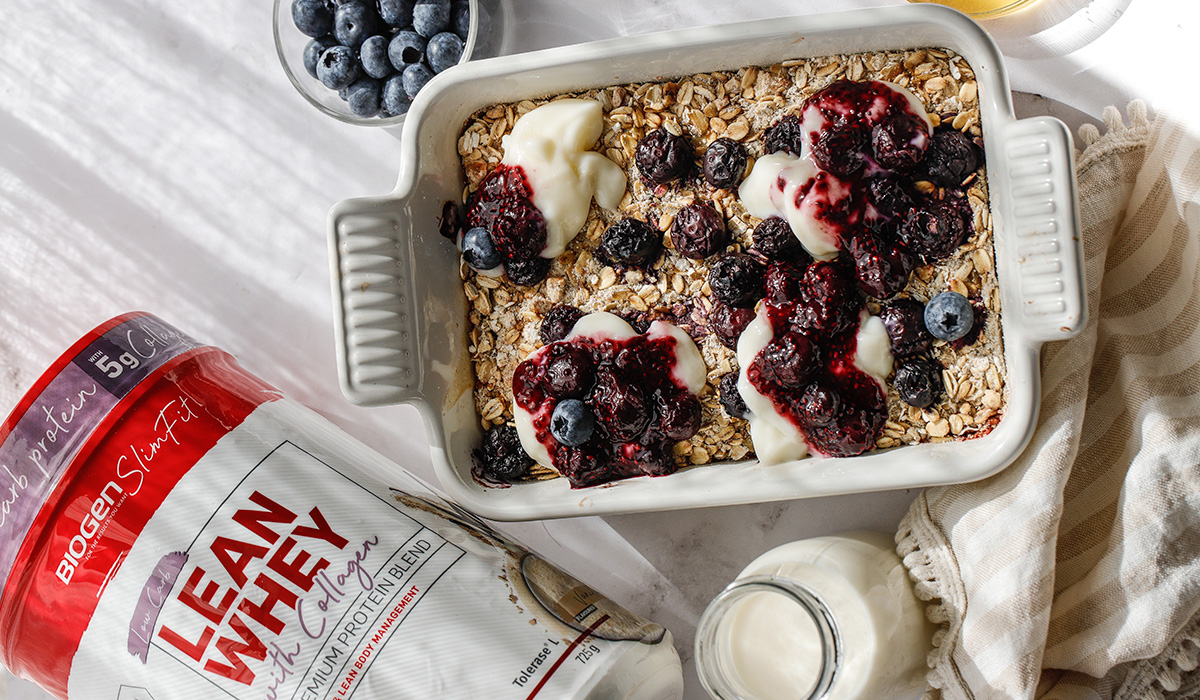 Energise your mornings with our Blueberry Whey Protein Baked Oats. Bursting with juicy blueberries, this wholesome recipe combines the goodness of oats and the benefits of whey protein. A delightful fusion of flavours and nutrients, offering a hearty and delicious way to kickstart your day with a protein-packed twist.
Ingredients:
2 1/2 fresh or frozen blueberries
1 tbsp corn starch
1-2 tbsp sweetener of choice
Topping:
1 cup rolled oats
1/2 cup quick oats
1/3 cup brown or coconut sugar
1/4 cup coconut oil
1 scoop Biogen Lean whey with Collagen protein powder
Pinch of salt
Yogurt to serve
Blueberry compote to serve
Method:
1. Preheat oven to 180 degrees Celsius, or your air fryer accordingly.
2. Place the blueberries, corn starch and sweetener in the baking dish, mix well.
3. In another bowl, mix the oats, sugar, protein powder and rub in the coconut oil.
4. Sprinkle the oats over the blueberries and let it bake for 10-15 minutes until gooey.
5. Serve with yogurt, syrup and more blueberries.
Biogen Lean Whey with Collagen combines a dynamic duo that creates a more complete protein source with all essential amino acids. Collagen and Whey each have their own unique benefits for health and performance.
Collagen is one of the most abundant proteins in the body, and helps to maintain healthy joints, supports bone strength, and enhances skin hydration.
Whey Protein may help promote weight loss by increasing satiety and possibly boosting your metabolism.
Recipe by @lifeinthesouth.co Mariza Ebersohn