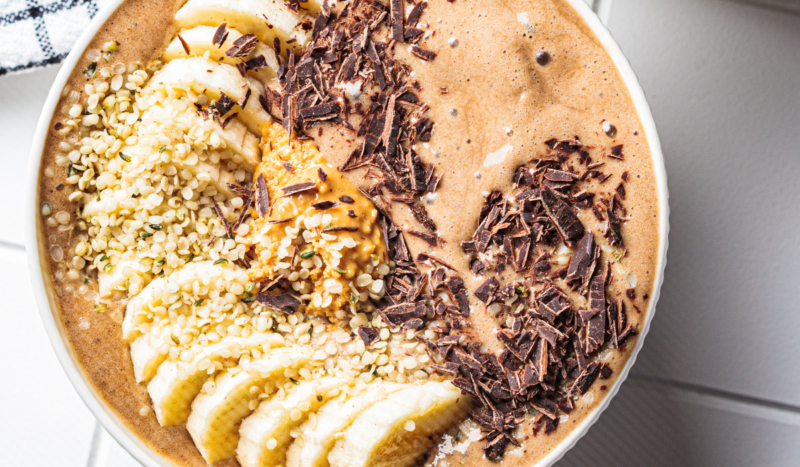 Picture this: You're at your favourite coffee shop, sipping on a velvety espresso, and savouring the rich flavours of peanut butter and chocolate. Now, imagine you can recreate that experience at home while giving your body a protein-packed boost. That's where our Biogen Peanut Butter Espresso Protein Bowl comes in. With the delectable blend of Biogen Premium Iso-Whey – Chocolate Brownie, creamy peanut butter, chilled espresso, and the natural sweetness of ripe banana, this bowl is your ticket to coffeehouse bliss.
Ingredients:
2 Scoops Biogen Premium Iso-Whey – Chocolate Brownie
2 Tablespoons Peanut Butter
2 Shots Espresso (chilled) or strong coffee (cooled)
1 Ripe Banana
1 Cup Almond Milk
Ice Cubes (optional)
1 Teaspoon Hemp Seeds (optional)
Method:
Gather Your Ingredients: Assemble all the delicious components for your Peanut Butter Espresso Shake.
Blend to Perfection: In a high-speed blender, add the following ingredients:

2 Scoops of Biogen Premium Iso-Whey – Chocolate Brownie
2 Tablespoons of creamy peanut butter
2 Shots of chilled espresso or cooled strong coffee
1 Ripe banana
1 Cup of almond milk

Whirlwind of Flavour: Start your blender and let it work its magic. Blend until all the ingredients come together into a smooth and luscious shake.
Chill Out: For that extra refreshing touch, consider adding some ice cubes to your blender. Blend once more until your shake is perfectly chilled and ready to delight.
Garnish and Enjoy: Pour your Peanut Butter Espresso Shake into a bowl. This shake is not just about taste; it's a visual treat too. Garnish with a sprinkle of hemp seeds for added nutrition and texture. Then, savor the fusion of coffee, chocolate, and peanut butter flavours.
Biogen Iso Whey Premium Protein is a protein shake with high levels of Essential Amino Acids (EAAs) and Branched Chain Amino Acids (BCAAs). It is easily absorbed, and isolated whey has been shown to have a high Biological Value (BV) versus most other whole food protein sources. Whey Protein Hydrolysate. Whey Protein Isolate. Whey Protein Concentrate. Tri Matrix Protein.
High levels of Essential Amino Acids (EAAs) and BCAAs.
Whey isolate is easily absorbed by the body, providing much needed nutrient replenishment after muscle breakdown.
Whey isolate has higher biological value (HBV) over any other whole food protein source.
Informed Choice certified.