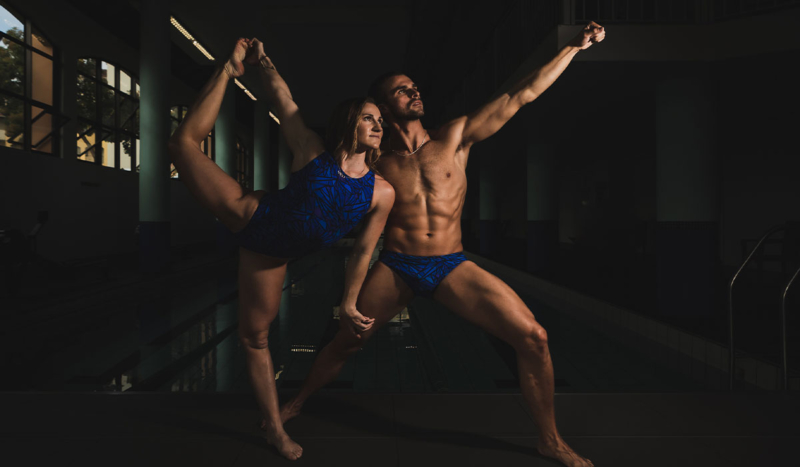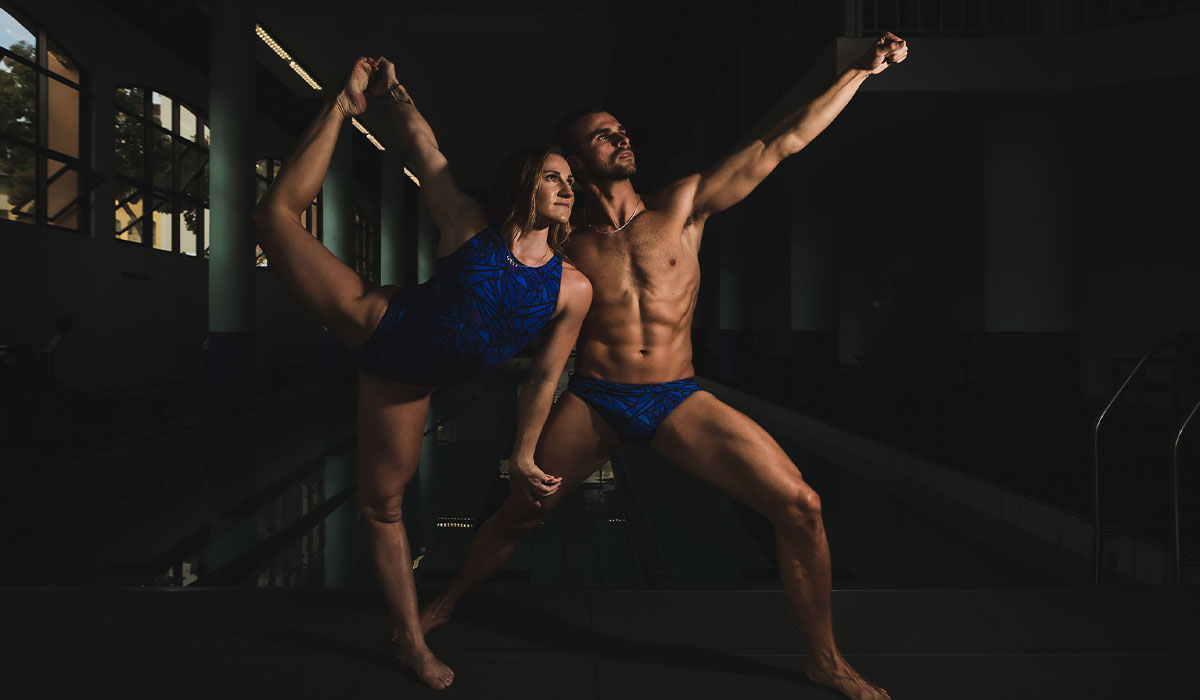 Ayrton Sweeney made history at the 2022 FINA World Championships when he became the first African male athlete to compete in synchronised swimming (now known as artistic swimming).
Ayrton has spent most of his life in the pool training to compete as an elite swimmer and achieved phenomenal success during the 10 years he competed on the South African national team.
His greatest achievement was a gold medal at the 2017 World Aquatics Championships held in Hong Kong. And he represented South Africa multiple times at the African Games, earning 10 African Championship titles along the way. In that time he also founded the All About Lifestyle centre in Gardens, Cape Town, where Ayrton and his team help swimmers reach their full potential. And it is at his training facility where Ayrton's journey into the world of artistic swimming began.
"I connected with my synchronised swimming partner Laura Strugnell through a mutual friend," recalls Ayrton.  
"Laura wanted to use our pool for a training camp and got in touch with me. We chatted and I showed her the facilities and how we can accommodate her and the team. On the last day of the camp, I went to check how everything had gone and they invited me to try it out." 
With his swimming background, and his willingness to try something different – it's part of Ayrton's practise of embracing a new theme in his life every year, and 2022 is all about embracing change – he decided to give it a try.
"I really enjoyed the experience, and when they told me that no African male had ever competed, I became more intrigued. The thought that I could make history was a perfect fit with my 2022 theme. I also love a challenge and like pushing myself outside of my comfort zone."
The potential to become the first male synchronised swimmer to represent South Africa motivated Ayrton to work hard for the few months the duo had before the national championships. He had to substantially change his traditional training regimen to prepare for the competition.
"The training is completely different. As a swimmer, training took up most of my day, with sessions in the morning, afternoon and evening, which was intense and mentally tough. It was all about time in the pool." 
Ayrton explains that he spent up to seven hours a day in the pool as a swimmer – 2-4 hours in the morning and up to 3 hours in the afternoon and evening. In comparison, synchronised swimming is more about perfecting a move and looking as good as you can while doing these complex and demanding movements, which are very difficult. 
"For the level that I am at, I can get through the training by balancing work and training, which is not as intense compared to my swimming career. But after chatting to other international athletes, who train around 6-8 hours a day, competing in synchro at the highest level is crazy tough!" 
The hardest part is remembering to point his toes, laughs Ayrton. "It's not something I am used to as you need a loose ankle when swimming. My coach tells me about 300 times a session to point my toes." 
While he is only in the pool for 3 hours a day now, 3-4 times a week between work commitments, Ayrton also spends a lot of time in the gym to improve his strength. "You can find me in the gym 4-5 times a week as strength is so important. Your legs and arms need to be super strong to lift as much of your body out of the water as possible."
Ayrton's typical gym session includes leg presses, squats, bicep and forearm exercises, and a lot of focus on the back and shoulders, as well as lots of core work. "It is easy to train this hard when you love the gym, which I do. It's my daily meditation and I find it to be a pleasant place to be." Sunday is a recovery day for Ayrton.
Aryton's Nutritional Approach
With the volume of training he does, Ayrton says he can typically eat what he wants, and he is currently eating more than he did when he swam now that he is in the gym so much.
His nutritional approach includes numerous beneficial supplements from Biogen. "Biogen supplements play a very important role in my nutritional approach because I believe in the benefits these products provide, most notably convenience. Importantly, they are also certified by Informed Sport, which means they are safe to use by athletes as they do not contain any banned substances."
Ayrton uses Biogen Bulk Raw and Biogen Iso-Whey throughout the day as a convenient way to get the right amount calories and macronutrients he needs.
"As the team manager of my facility, I am on my feet all day, which often means that I can't get all my meals in. A Biogen Bulk Raw shake ensures I get the right combination of carbs and protein to fuel my workday and training sessions while Iso-Whey Premium aids my recovery after workouts."
Ayrton uses Biogen Amino Power+ before and during his training to maintain muscle and support his performance, along with Biogen Electrolyte tabs for hydration and to minimise cramps in the pool.
Making History – FINA World Aquatics Championship
With his dedication and comprehensive approach to training and performance nutrition, Ayrton quickly got up to speed on synchronised swimming with help from Laura and their coach.
"Despite the short timeframe – just two months – we achieved the score we needed to qualify for the 2022 FINA World Aquatics Championships, which would enable me to represent my country and become a pioneer of the sport in Africa," he explains.
A mere four months after pairing up, the two teammates formed part of the 66 swimmers, divers, water polo players and artistic swimmers and their coaches who travelled to Budapest to represent South Africa at the FINA World Aquatics Championships from 18 June to 3 July.
Ayrton's FINA World Championship supplement stack:
An Unforgettable Experience
"This entire trip was surreal from the time I left Cape Town. It is still hard to believe that just four months earlier I had started this journey with no idea where it would take me. Making it to the FINA World Championships to compete alongside the world's best athletes was an amazing achievement – I am still not sure how it happened and I am still on such a high from it all," explains Ayrton.
"When we arrived, I was welcomed by the synchro swimming community and met so many talented athletes and community members. I immersed myself in this new world, which is rich with athletic ability and creative flair. I had so much fun and learnt so much."
Ayrton says that watching the top teams train and compete was an unbelievable experience and opened his eyes to the world of synchro and the possibilities it holds for him and his career.
"I was humbled and honoured by the whole experience. It all felt like the theme for our routine – a dance party. I am very grateful for the trip and the learnings. We also did really well in our routine, scoring a respectable 6.3. I can't wait to see what happens next as I have so many ideas about what to do next and get closer to our goal of a 7.0 score."
Ayrton hopes that their achievement can inspire others to take up a new challenge and not fear change, or possibly even take up synchronised swimming.