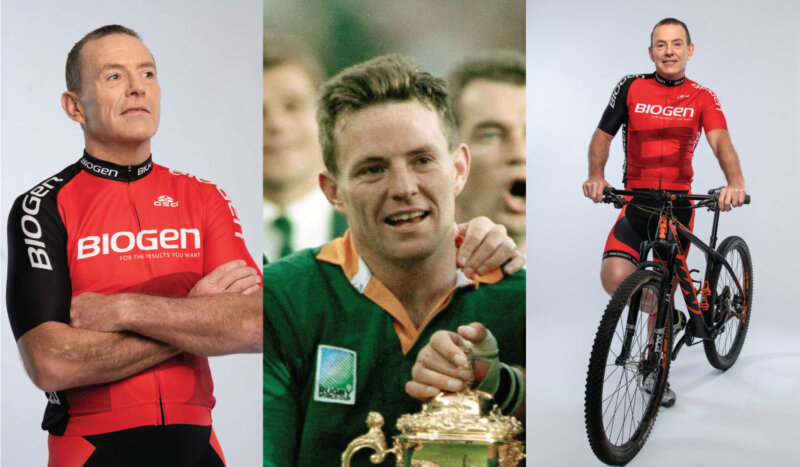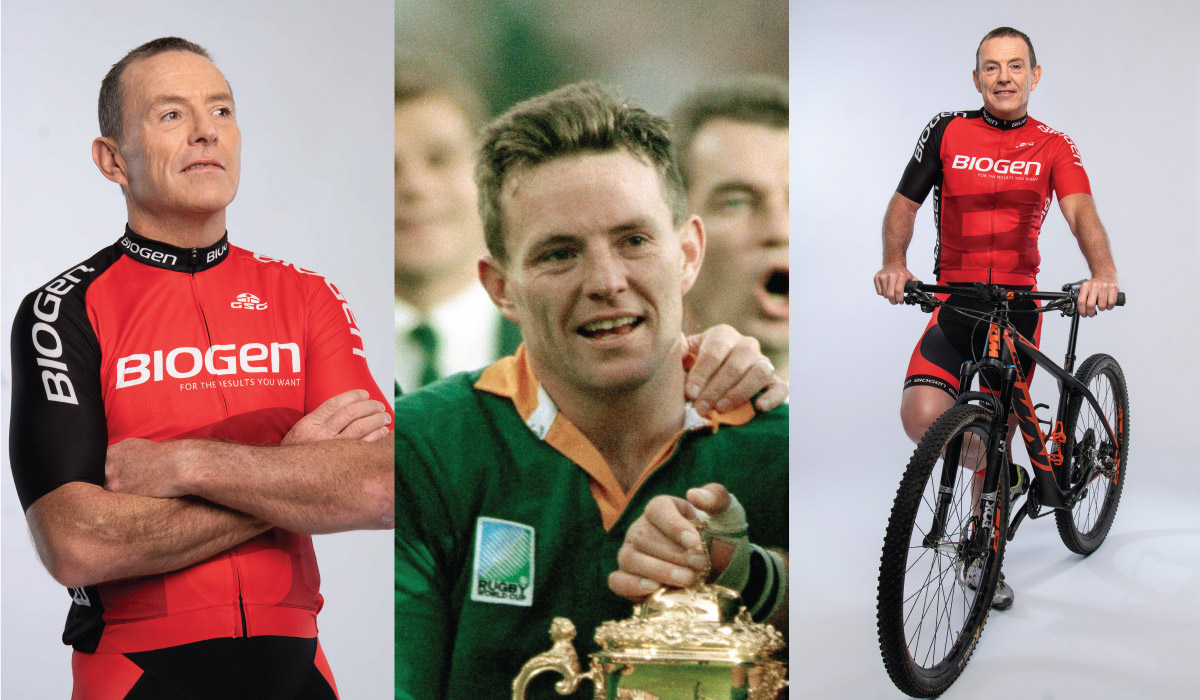 Professional rugby players are competitive by nature, even after retirement.
A quick glance at the finisher lists from some of South Africa's toughest marathon and multi-stage mountain bike races will include some of the country's most decorated Springboks.
Among these talented athletes, one name consistently ranks highest – South Africa's 1995 World Cup-winning flyhalf, Joel Stransky.
A race regular
Since hanging up his famed kicking boots, Joel has become a regular competitor at big endurance events across the country.
While he has completed multiple Ironman triathlons, his biggest passion has become mountain biking and conquering the challenge that the fabled Absa Cape Epic presents.
After a knee injury forced him to quit playing rugby at any level for good, he started cycling to stay fit through his rehab. Then an opportunity came up that would change the trajectory of Joel's active lifestyle.
Pedal for good
"I received a call asking if I would compete in the Absa Cape Epic in support of a charity. I was busy working on a new business venture at the time, which meant my fitness had taken a backseat. As a result, I was a few kilos overweight, so I decided this was good motivation to get back in shape."
At the time, Joel knew nothing about the event, so he decided to read up about it online.
"I didn't know what I had got myself into initially. Realising the magnitude of the challenge, I started training and building hours in the saddle, which helped me lose some weight."
Joel's initial aim was to simply complete the stage race, but the whole experience showcased the enormous impact a challenge like this has on a person's life.
"I enjoyed everything about my journey to the finish line – the training, the race and the ability to raise money for a good cause."
Backed by Biogen
Joel subsequently immersed himself in mountain biking. "It served as my escape and soon become my passion."
Along the way, someone recommended Biogen products as a means for Joel to fuel his training and racing and support his recovery.
"I got good results from the products and kept using them. I eventually met the incredible Biogen team, who passionately support cycling and mountain biking in South Africa, and I subsequently became a brand ambassador."
Joel's Biogen supplement stack
Daily support
Training & racing
After training
Tackling bigger challenges
The fitness he gained on the bike also gave Joel the confidence to tackle other endurance challenges, including a half Ironman. "I felt it was another way to challenge and push myself.
His preparation and the race also served as another stepping stone to even bigger tests of endurance, like the full Ironman distance – a 3.9km swim, a 180km cycle and a 42km run.
Enjoy the journey
"Just before we did our first Ironman, I organised a top coach to talk to us and he said a few things that have stuck with me."
The most important was his message about an athlete's journey to the start line.
"First of all, it needs to be enjoyable. Secondly, when you're standing on the beach with the sand between your toes, remind yourself that this is not the start. It's merely the next step.
"Getting there is what defines you as an athlete."
These words help Joel enjoy the training, the race and the celebrations afterwards. "And there are few better celebrations than hearing Paul Kaye say 'you are an Ironman' at the finish. It makes all the sacrifice and suffering worth it."
A competer not a completer
While Joel revels in the challenge that ultra-endurance events pose as an individual competitor, his nature as a professional athlete means he still wants to compete against other athletes.
"You can choose to plod along to simply complete the race, or you can compete to finish as high up as possible for an additional sense of achievement."
While it is impossible to compete against the elites, Joel says endurance sport is about becoming the best you can be with the training time you have available between your family and work commitments.
"And the masochist in me also wants to see how hard I can push myself and how well I can compete against others in my age group."
This drive pushed Joel to improve his mountain biking and see how far he could push his limits in the toughest mountain bike stage race on earth.
A year after a horrific crash prematurely ended his race (and left him with broken ribs and a punctured lung), Joel partnered with ex-pro cyclist and Cape Epic legend Andrew Mclean in 2018.
The duo eventually finished on the podium in third in the Grand Masters category, which Joel says is the highlight of his endurance racing career.
This experience showed Joel that what we put in is what we got out in endurance sport. And he has also started his own charity – The LumoHawk Foundation – to give back through his efforts.
"Having a higher purpose beyond my own ambitions, like raising money for kids, helps to get me through those tough training days."
Joel average Cape Epic training week:
Monday: Active rest – swimming 2-3km.
Tuesday: AM: intervals PM: Core and strength
Wednesday: Long easy ride – 2.5-3 hours
Thursday: AM – intervals PM – Run
Friday: Easy ride
Saturday and Sunday: Long rides